2021 will be remembered as an important year for Knowledge Services and those we serve. As we opened our new corporate headquarters, our teams were busy strengthening our technology, pioneering new ways to secure client data, and continuing to bring life-changing services and meaningful career opportunities to citizens across the United States.  
Take a moment to review some of the key milestones the Knowledge Services team accomplished in 2021 and how those successes will benefit each of our partners in 2022 and beyond.
Increasing Digital Security
Knowledge Services places a constant focus on data security and compliance, helping each one of our partners rest assured their data is protected with the latest, most comprehensive security solutions.  
In February, Knowledge Services achieved FedRAMP Ready status and is now listed on the FedRAMP Marketplace for federal agencies and government contractors. This designation is just one of the ways the entire Knowledge Services team strives to prioritize data security.  
"Our solutions require the processing of confidential personal and health data. We believe it is our responsibility as stewards of this data and for the governments we serve to uphold the highest security standards and to be a partner in preventing cyber breaches," said Joe Bielawski, President at Knowledge Services. "Achieving the FedRAMP Ready status is a testament to our company's commitment to security and to our clients."  
Additionally, Knowledge Services also began work this year as the program management office of StateRAMP, a recently launched organization that standardizes cybersecurity requirements for state and local governments.  
Each day, the Knowledge Services team worked to refine dotStaff™, our industry-leading vendor management system (VMS). Key VMS updates from this year include: 
 New Office Space, New Opportunities
In March, the Knowledge Services team returned to in-person work. Teammates who hadn't seen each other in months were able to reunite and enjoy a brand new office space. Designed to fit employees' needs perfectly, the new space features state-of-the-art workstations and meeting rooms, an on-site fitness center, and room for fun and games. Measuring more than 165,000 sq. ft. across five floors, the new headquarters is a marvel.  
In late 2021, renovation on the second floor of the building neared its end, and soon The Club at Crosspoint will open its doors. This new flexible workspace can be tailored to fit the needs of every tenant, from individual professionals seeking a quiet space to excel or small enterprises searching for the perfect meeting space.

Expanding Our Services
In 2021, Knowledge Services team members never lost sight of the company's enduring mission statement: Serving Those Who Serve Others. In the midst of the COVID-19 pandemic, efforts continued to bring new career opportunities and vital resources to Americans. From processing more than 20,000 benefit applications for Hoosiers to expanding vocational rehabilitation services to 4,000 Arizona citizens, Knowledge Services improved outcomes for people from every walk of life.

Knowledge Services also had the tremendous distinction of implementing two Managed Service Provider (MSP) contracts simultaneously in Michigan and Wisconsin. More than 330 vendors are already registered in Michigan, and 60 vendors are registered in Wisconsin. Together in both states, nearly 1,400 incumbent resources have been successfully transitioned.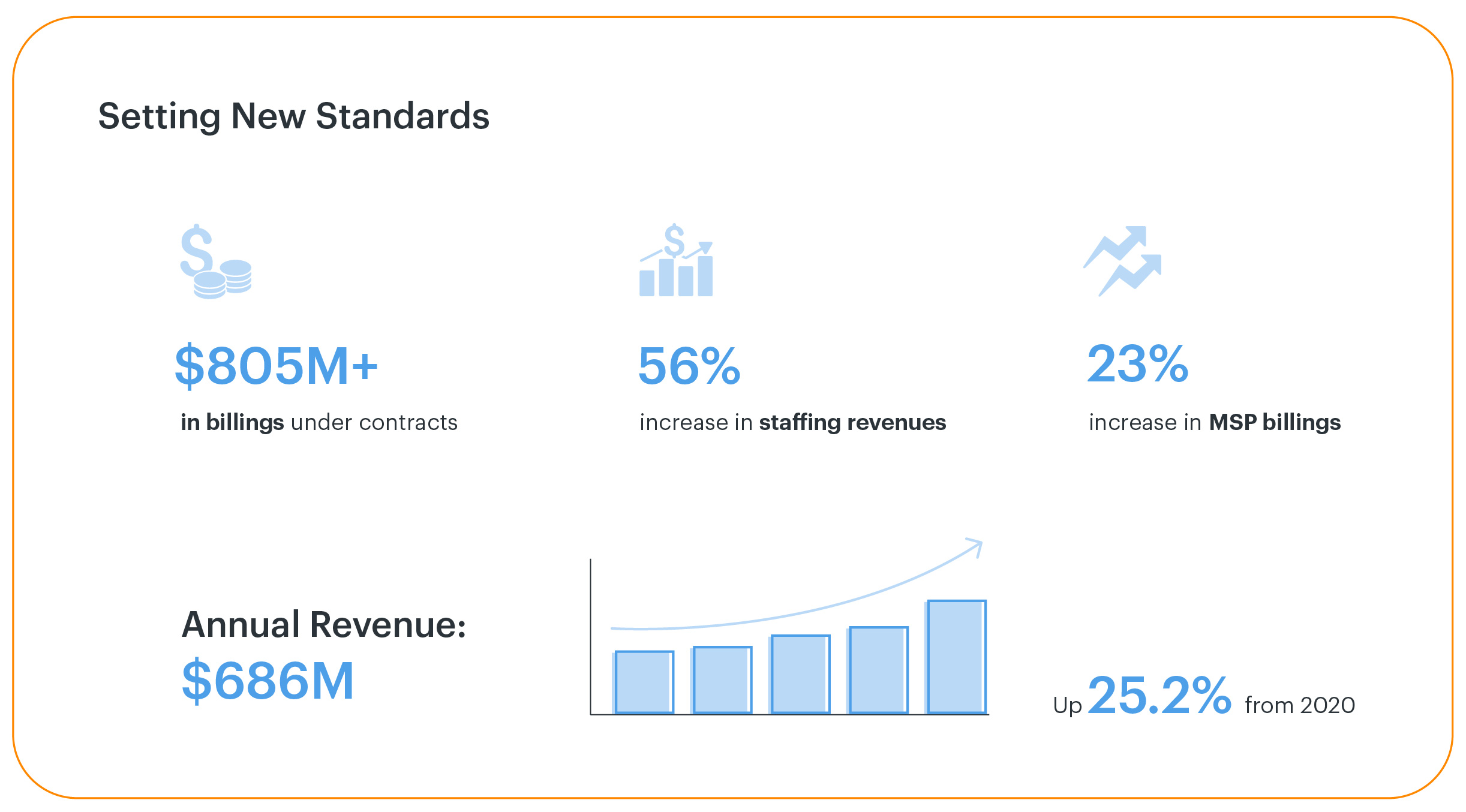 What's on the Horizon
As Knowledge Services ends the year, our entire team wants to thank the people who made 2021 a year of success, innovation, and opportunity. Serving others has never been more important, and together, we accomplished amazing milestones and started a path to a prosperous 2022.