Knowledge Services Awarded Home & Community Based Surveys in 2021
Dec 01,

2021
INDIANAPOLIS, IN – In September 2021, Knowledge Services (KS) was awarded the NCI-AD Survey for two Midwestern states. Knowledge Services delivers important survey solutions to multiple government agencies. This is a key opportunity for Knowledge Services to innovate and provide new solutions for Americans from every walk of life.
The National Core Indicators-Aging and Disabilities (NCI-AD) is an initiative designed to support states' interest in measuring the performance of their programs and delivery systems to improve services for older adults and individuals with physical disabilities.  NCI-AD is a collaborative effort between ADvancing States and the Human Services Research Institute. The NCI-AD survey is used by over 30 states. NCI-AD's primary aim is to collect and maintain valid and reliable data that give states a broad view of how publicly funded services impact the quality of life and outcomes of service recipients.
The KS Commitment
After hearing about Knowledge Services experience with the NCI-AD survey collection, a health institute from a midwestern state requested information regarding Knowledge Services' ability to administer the survey for their state.
Historically the NCI-AD survey was exclusively a face-to-face survey. In 2020-2021 Knowledge Services piloted performing the survey over the phone for a separate midwestern state. Based on analysis, Advancing States and HSRI deemed phone surveys are a valid modality for data collection.
Knowledge Services facilitates and streamlines the State's survey process using their secure technology, dotStaff™. Knowledge Services can handles the entire survey collection process, from research, design, and testing, or any component. The KS team structure is outlined below:
The Nine Step Process
Knowledge Services Solutions follow a 9-step timeline grouped into 5 different categories: Development and Design, Administration and Collection, Data Analysis and Report of Findings, Project Management, and Technology Functionality. The KS timeline is below followed by our surveying process: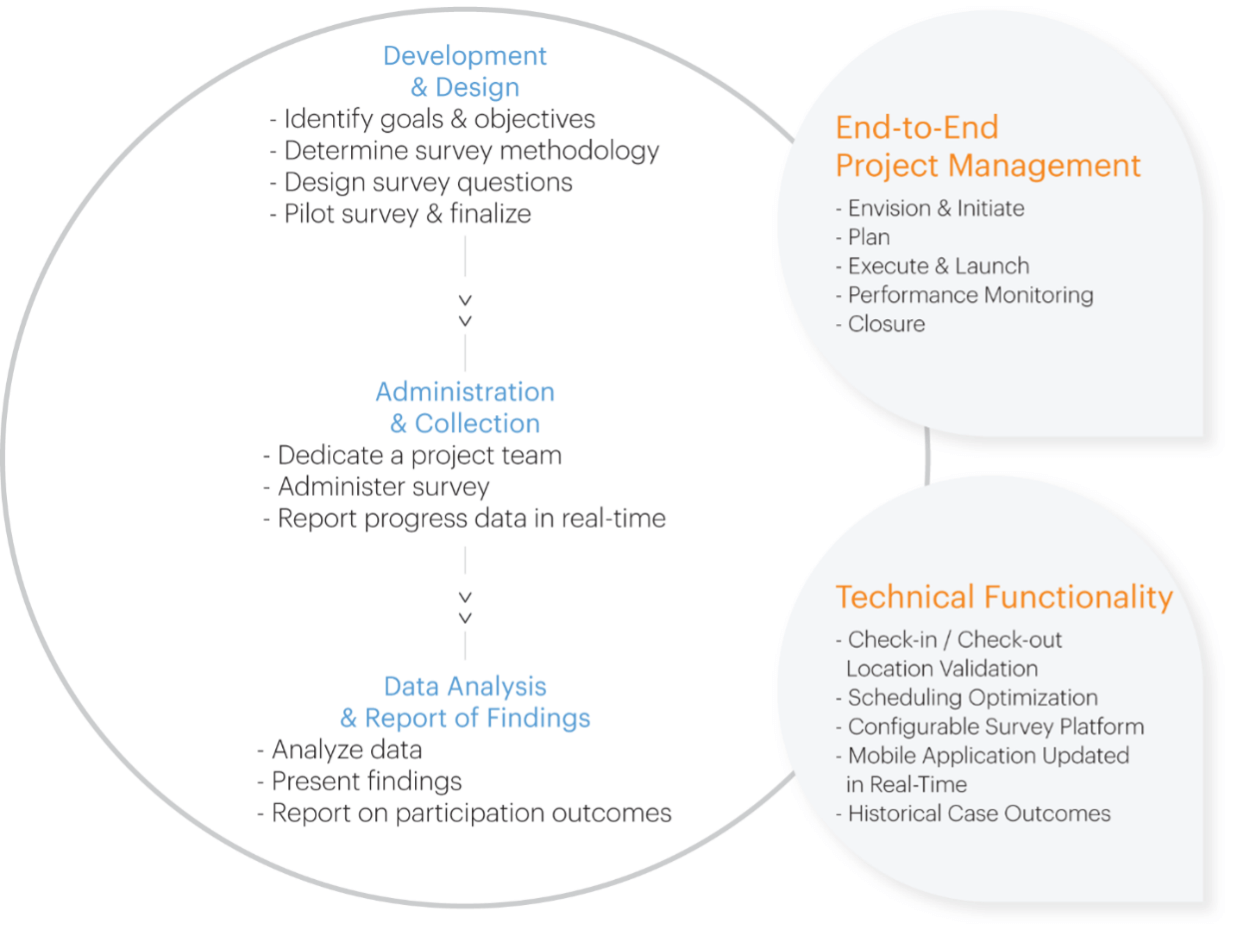 Customized Survey Development
Tailored Survey Website Design
Survey Construction
Survey Administration
Real-Time Data Display
In-Depth Data Analysis
Personalized Feedback and Reports
Intervention Strategy Development
Specialized Training
Secured Technology: dotStaff ™
Knowledge Services utilizes our own technology, dotStaff, when conducting surveys. dotStaff allows users to do the following:
Track call outcomes for real-time status tracking of participants and scheduling optimization.
Participant mapping functionality to most efficiently schedule the next appointment based upon participant location, interviewer location and travel times from previously scheduled appointments.
Interviewer check-in/check-out and location validation functionality to gather data on average appointment length for in-person surveys and validate interviewer and participant location for in-person survey.
Custom form building to allow for forms to be created and captured within the dotStaff™ mobile app, like a custom consent form for in-person surveys.
Easy integration with maps in dotStaff™ mobile app for directions to each participant home based upon current location of Interviewer.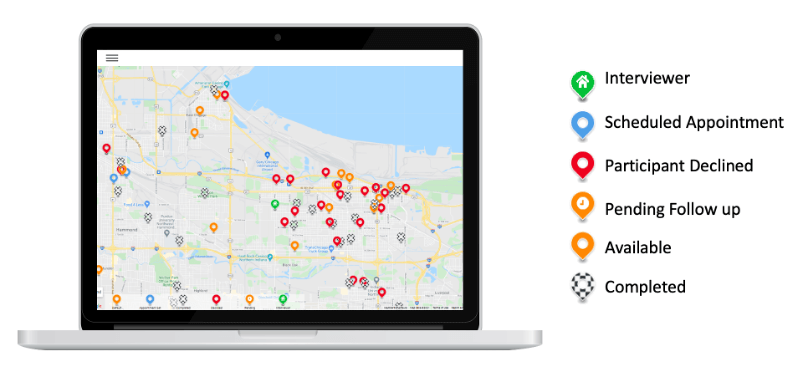 Image: dotStaff Location View